Meditation Seminar Sitting on the Lotus
26. August 2017 19:30

-

27. August 2017 22:00

CEST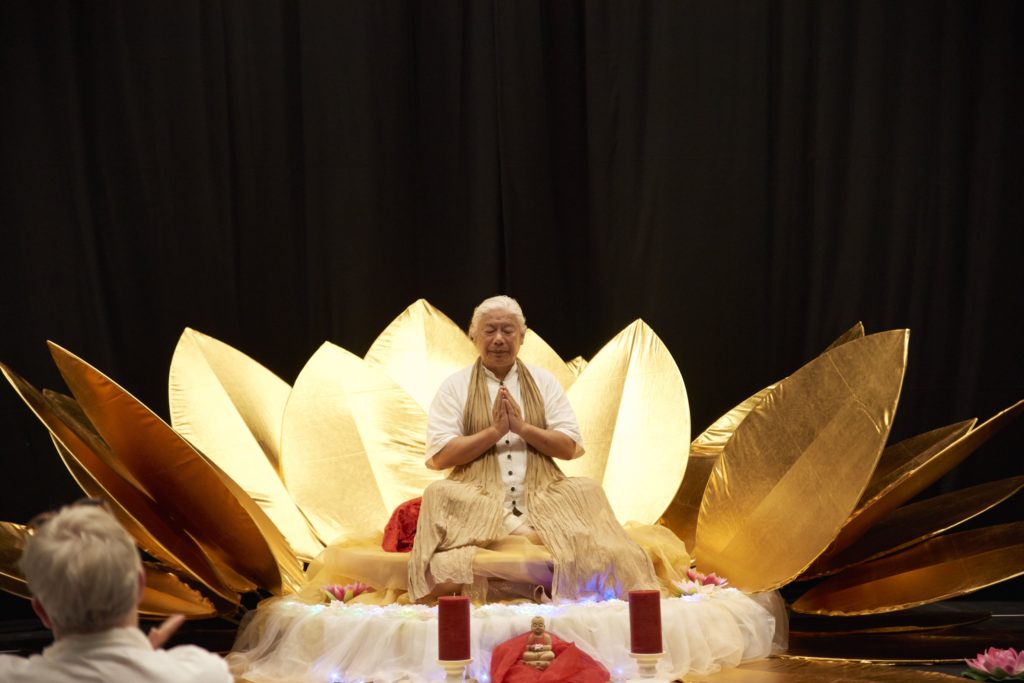 SAT | 26 AUG | 7:30 – 10:00 PM
University of Arts Berlin, Hardenbergstraße 33, room 158
contribution: 30 Euro, discounted 25 Euro
[minti_button link="http://yixue.de/yixue-kongress-2017/" size="small" target="_self" lightbox="false" color="color-3″ icon=""]back to event overview[/minti_button]
---
YiXue Meditation Seminar with lecture on
'The small heavenly energy cycle' with Grand Master Wei Ling Yi
"If our heart becomes as still as a mirror,

we are able to perceive truth and develop our full potential." Wei Ling Yi
We would like to invite you to our meditation seminar Sitting on the Lotus with grand master Wei Ling Yi on 26 August from 7:30 to 10:00 PM at the University of Arts – an evening where we sit in silence and feel the connection to heaven and earth.

At the beginning of his lecture, Wei Ling Yi will explain the meaning of the small heavenly energy cycle. Its opening enables a calm emotional heart, which is one of the most important foundations for a stable, truthful and still meditation.
The term 'small heavenly energy cycle' describes the energy flow through two major meridians called Dumai and Renmai. Dumai ascends along the spine and Renmai descends in the front along the central axis. Both meridians are connected at the head and the point of dam. If this energy cycle is opened, our vital energy can flow freely and all organs are energetically cared for and nourished.
Meditation Sitting on one's own Lotus from the Great Lotus System

Practicing the meditation form Sitting on one's own Lotus is amongst the most meaningful cultivation methods within the YiXue Culture and the Great Lotus System. Not only is it necessary to take care of our health, but also to integrate spiritual practice and develop the soul, the so-called inner child, in order to grow holistically and unfold our genuine potential.
In the course of the evening, Wei Ling Yi will create an elevated and harmonious Yi Qi, Lotus energy field, which will enable a natural meditative state, the so-called pre-natal state. Thus the connection with the pure cosmic original energy and high creative power, Yi Qi, becomes possible so that healing energies and information will be received. The body and spiritual power of the heart will be strengthened and wisdom will unfold.
By seating ourselves on our own Lotus – symbolically representing the vehicle which took us to earth – and going into a meditative state, we gradually develop our light and vigor and increase our energy level. We will connect to the cosmic Lotus in the center of the universe – the Yi Qi. With its help and our holistic progress we will eventually merge.
---
Information:
Susanne Ludwig, TEL: 0171.430123, MAIL: s.ludwig@yixue.de
Marianne Endriss, TEL: 035242.4888190, MAIL: anmeldung@yixue.de
Details
Start:

26. August 2017 19:30

CEST

End:

27. August 2017 22:00

CEST

Event Category:
Venue
Seminarweg 5




Nossen

,

Sachsen

01683

Deutschland

+ Google Map

Phone:

+49(0)3524248880

Website:
Organizer
Phone:

+49(0)3524248880

Email:

info@yixue.de

Website: