05mar(mar 5)21:0024(mar 24)21:15From Saturday 05 March 2022 – daily worldwide at 9:00 pm CET mantra recitation Ma Ya Hai for Peace in the WorldBe a part of it!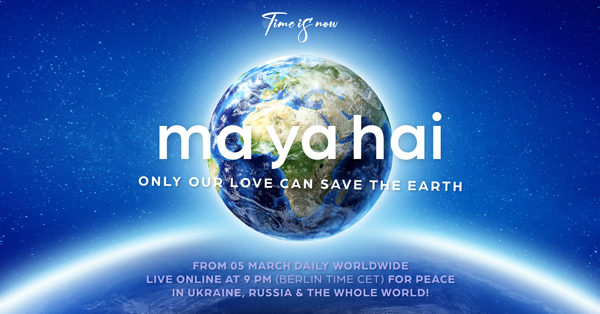 Event Details

Important info: On March 19, the Ma Ya Hai recitation will take place during Wei Ling Yi's online lecture. Sign up here to be there: https://us02web.zoom.us/webinar/register/WN_FODEb37YQN6Wxs1QBntydQ
---
Since Saturday 05 March 2022 we chant together worldwide daily at 9.00 pm (Berlin time / CET) for 11 minutes Live Online the protective mantra Ma Ya Hai for Peace in Ukraine, Russia and the whole world.
or copy the following link into your browser: https://us02web.zoom.us/j/88682063015
---
The protective mantra Ma Ya Hai carries light-filled and transformative powers. By chanting or reciting it, we can help to touch, nourish and heal ourselves, the heavens, the earth and all living beings. Disasters and crises can be mitigated or even averted. The more people recite together, the greater the effect. Together we spread the light for world peace.
United in one heart we follow the call of SIFU Wei Ling Yi to unite worldwide in a lotus network of light and send out the golden lights for peace in Ukraine and for all nations.
In harmony we want to recite the Ma Ya Hai Online together to help the people who are in this bitter suffering time of war. 
With bundled power let us believe and support that there will be further attempts at peaceful negotiation talks and solutions for a peaceful future.
Everyone is important – Everyone is a force Ma Ya Hai
You can also recite or chant the Ma Ya Hai Mantra individually for yourself in the morning at 11am. 
Thank you for your support
---
Organiser:
YiXue Bildungszentrum gemeinnützige GmbH, ZLH, Lotus Ensemble
Contact for questions
Email: mayahai@yixue.de
Note on the visibility of participants during the event: We use the ZOOM webinar platform. This means that the default setting is that only the moderator cameras and microphones are activated. The participants cannot be seen or heard.
Time

5 (Saturday) 21:00 - 24 (Thursday) 21:15(GMT+01:00) View in my time