International YiXue Art Festival
25. August 2017 11:00

-

27. August 2017 17:00

CEST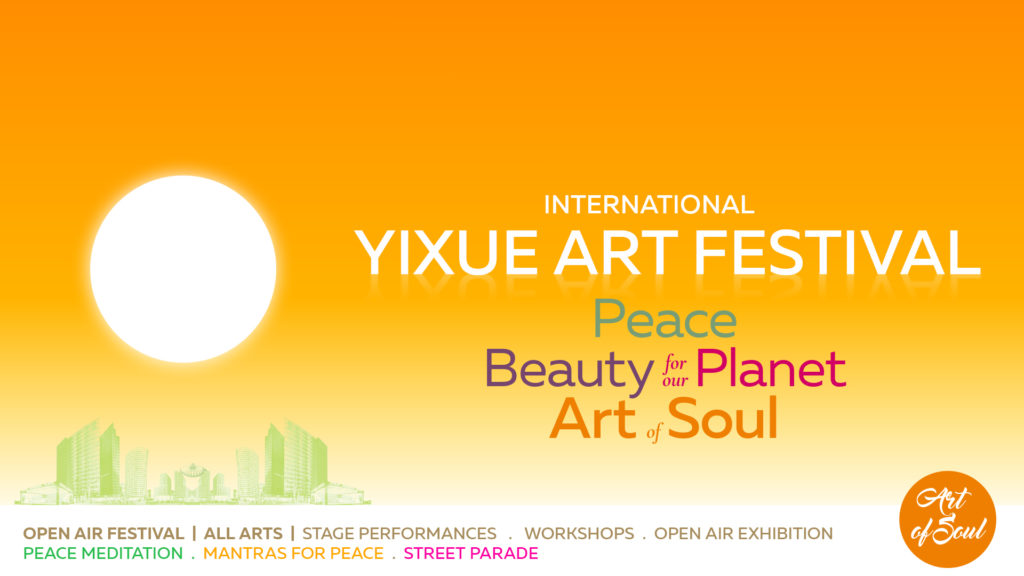 25 August 11:00 AM – 10:00 PM From 7:00 PM Meditation & Mantras for peace with Grand Master Wei Ling Yi
26. August 11:00 AM * stage program 13:30 AM – 5:00 PM
Potsdamer Platz
[minti_button link="http://yixue.de/yixue-kongress-2017/" size="small" target="_self" lightbox="false" color="color-3″ icon=""]back to event overview[/minti_button]
---
International YiXue Art Festival mit YiXue Präsentationen
According to the motto 'Art of the soul', the YiXue community invites all artists to the first international YiXue Art Festival – a holistic art festival for artists and musicians at Potsdamer Platz in Berlin: art, music, theater & dance inspired by the power of heart and soul.
Be part of a New Art!
This new unconventional art festival aims to support and establish a new understanding of art: art as an expression of a new awareness inspired by soul power and by the holistic connection of human beings with the all-embracing intuitive force of the universe and the earth.
Art – a gift of heaven
The festival is part of the YiXue Congress 2017 in Berlin, initiated by Wei Ling Yi – an outstanding teacher of awareness and wisdom, in whose teachings the soul and its expressions by means of art play a major role. As a matter of fact, art in all its forms is capable of connecting us with the vivacity and power of our heart and making us rediscover our inner core – our soul.
Being a kaleidoscope of all arts, this festival, which does not set any boundaries regarding presentation and exhibition, invites all artists of the performing arts as well as of the fine arts to actively participate.
[minti_button link="http://www.yixue.de/yixue-uploads/pressdownload-yixueartfestival-muttererdefest2017/folder-yixueartfestival.pdf" size="medium" target="_blank" lightbox="false" color="orange" icon=""]Download Infoflyer YiXue Art Festival[/minti_button]
---
We are happy to welcome you
Show your performance on our stage /// Show your art at the open air exhibition /// Give your own workshop ///
Apply now! email: info@yixue.de phone: +49.(0) 35242 – 4888 – 0
You will receive an application form as well as the details regarding the general terms and conditions. Closing date for applications is 31st July 2017.
All these art forms are considered:
PERFORMING ARTS like Music, Dance, Artistry, Street Theater, Clownery and Theater;
FINE ARTS like painting, art installations and sculptures;
VISUAL AND DIGITAL ART like films;
CRAFTSMANSHIP; CULINARY ART, INTERACTIVE AND TEMPORARY ART
---
Another highlight at this weekend is the MOTHER EARTH FESTIVAL / STREET PARADE
on Saturday, 26 August
Intended Route From Gendarmenmarkt – via Brandenburger Tor to Potsdamer Platz
All kinds of Music, Dance, Arts & Cultures
SAT 26 AUGUST | 11:00 AM
Details
Start:

25. August 2017 11:00

CEST

End:

27. August 2017 17:00

CEST

Event Category:
Venue
Seminarweg 5




Nossen

,

Sachsen

01683

Deutschland

+ Google Map

Phone:

+49(0)3524248880

Website:
Organizer
Phone:

+49(0)3524248880

Email:

info@yixue.de

Website: